Welcome to Meade County Research & Extension
JOIN OUR TEAM!
Meade County Extension is seeking a full-time Office Professional. Hours are Monday through Friday, 8 a.m.-12 p.m and 1 p.m.-5 p.m. To apply, please bring a completed application and your resume to the Extension Office.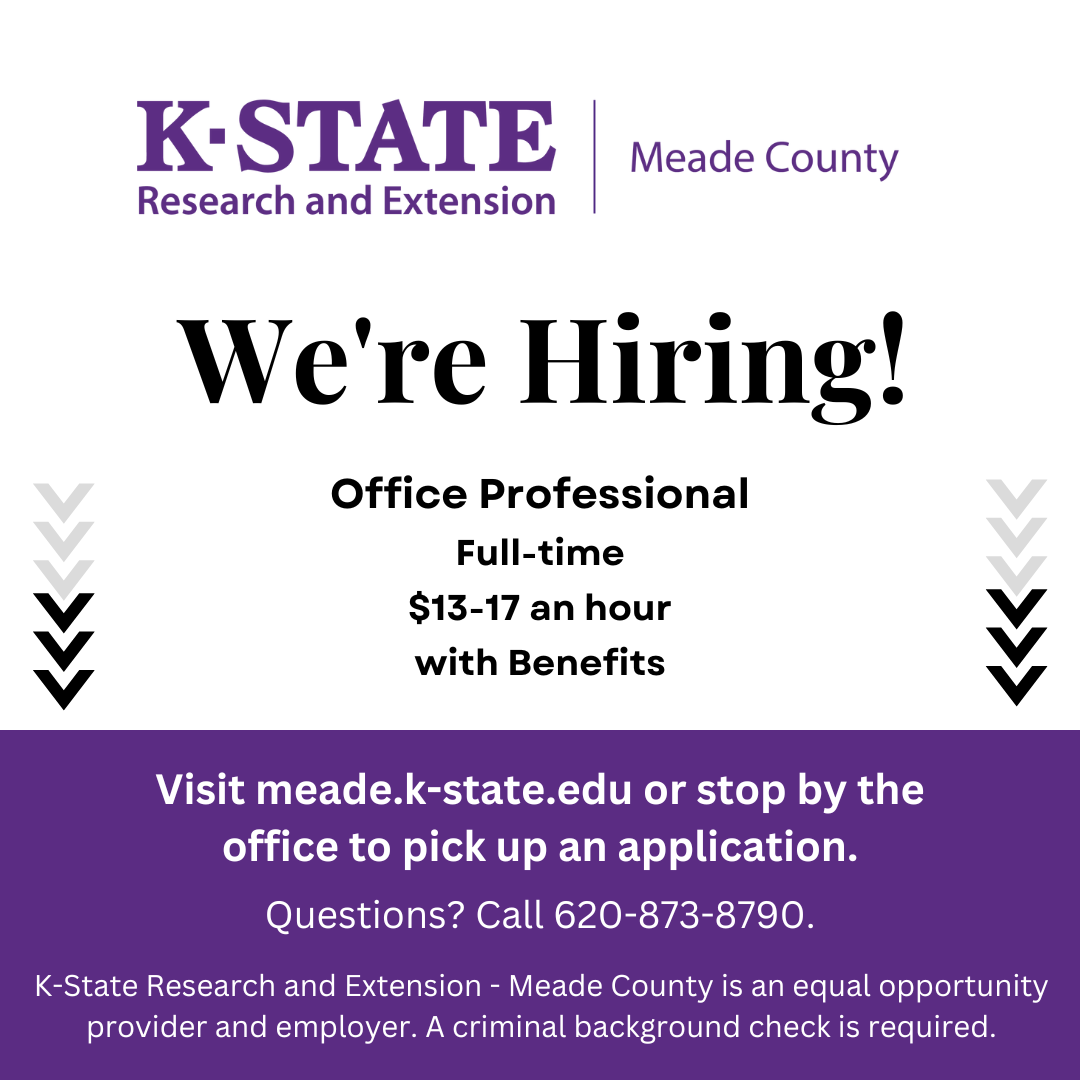 Tried and true. For more than a century.
Since 1914, K-State Research & Extension has provided practical, trustworthy education to the people of Kansas. Here in Meade County, Extension services are available to citizens in the areas of 4-H, Family & Consumer Sciences, Horticulture, Agriculture, and Aging. Our focus in Kansas is on solving grand challenges in our state pertaining to water, health, global food systems, vitalizing our communities, and developing tomorrow's leaders.
We are Kansas State University in your local community. And we are proud to serve Meade County as your "Knowledge for Life" headquarters.
Have a Question?
We are here to help. Contact us today!
Meade County Extension Office
407 E. Rainbelt
PO Box 369
Meade, KS 67864
620-873-8790
FAX: 620-873-2013
Office Hours: M-F, 8:00 AM - 12:00 PM & 1:00 PM - 5:00 PM
Closed on Major Holidays and Weekends

K-State Research and Extension is an equal opportunity provider and employer. Issued in furtherance of Cooperative Extension Work, Acts of May 8 and June 30, 1914, as amended. Kansas State University, County Extension Councils, Extension Districts, and United States Department of Agriculture Cooperating. Dr. John Floros, Director.